It isn't necessary to become a qualified electrical engineer to do interesting things with sensors but a little basic knowledge will help. Three basic aspects of electricity we should be aware of are
voltage
,
current
and
resistance
.
It is useful to use the analogy of water flowing through a plumbing system in order to understand these definitions.
Voltage
is value relative between two points in a circuit that defines the potential for electricity to flow between those two points, this is sometimes referred to as 'potential difference'. That 'potential' is fulfilled when some sort of circuit is completed between the two points. In order for electricity to flow there has to be a voltage difference within the circuit. A reference point known as 'ground' potential is defined above (and below) which all other voltages are measured. Voltage is measured in 'volts' with a 'voltmeter' or the DC voltage setting on a multimeter. Using our analogy, voltage can be thought of as the height difference between a water tank and a tap that permits water to flow - a greater height difference creates the potential for more forceful water flow.
Current
is the potential volume of electricity that can flow and using the water analogy is the volume of water available to flow and more precisely the rate at which the tanks is refilled. Normally we need concern ourselves less with current, it mainly becomes an issue when a power source is incapable of supplying sufficient current that a circuit demands. Current is measured in 'amps' using an 'ammeter'. This must be done in series within the circuit so a circuit will have to be broken in order to make this measurement.
Resistance is a measure of the
inability
of a material to conduct electricity. A material that conducts extremely easily is referred to as a conductor. A material than almost completely resists conduction is referred to as an insulator. Anything in between is a resistor.
Resistance
is measured in ohms using a resistance meter, a function found on all multimeters. Common measurements are very large so instead the 'kilo-ohm' becomes the most used unit of measurement. 1000 ohms = 1 kilo-ohm. Kilo-ohm is frequently abbreviated to just 'k'. In our water analogy resistance is therefore the resistance of the plumbing system to the flow of water - more precisely, the gauge or thickness of the pipes.
Calculating Combined Resistance
Often it is useful to calculate a resistance created by a combination of more than 1 resistor. There are two ways in which resistors can be connected within a circuit: in series or in parallel and we use a different formula for each method.
If resistors are connected in series the resultant resistance is simply the sum of all the resistors:
R_total = R1 + R2
In the example below the total resistance would be 10 kilo-ohms.

If resistors are connected in parallel the formula used is as follows:
1/R_total = 1/R1 + 1/R2
Using this formula the total resistance in the example shown below would be 2.5 kilo-ohms.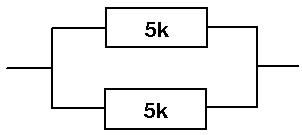 The Voltage Divider
If we consider the two resistors in parallel example and consider a voltage of 5 volts being applied across this circuit then the resistors effectively divide the total voltage in two. The voltage between the point between the two resistors and either of the two end points will be 2.5 volts as shown in (1).
In (2) changing the values of the resistors changes proportionally how the voltage is divided.
This is the principle behind how all of our passive (unpowered) analog sensors work.